Servicing Your Vehicle With Our Team In Denison
You depend on your vehicle to get you where you need to go. Many of our drivers throughout Denison even depend on their Ford vehicle in a professional capacity; in this way, their vehicle's efficiency is their efficiency. It is therefore vital to ensure your vehicle's health is maintained, and that you have a team you can trust when things go awry.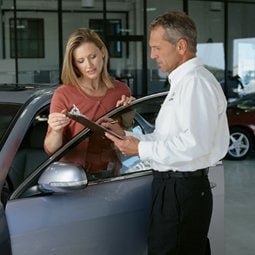 That is where our service team, and their skills come in.
A Team You Can Trust
No matter if you need a simple oil change, or if your car needs more extensive work, you want a team you can trust your vehicle with. At Team Ford Lincoln Inc., our service team will care for your car like it was their own. Furthermore, they will ensure it is given the grace, effort, and precision your vehicle deserves.
Essentially what all of this means is that when your vehicle needs any kind of service, you can trust our team to handle the matter quickly, and effectively, so you can get back on the road.
Want to Learn More About Servicing?
Your vehicle is an important part of your daily routine. You deserve to have the assurance of knowing that you will have a knowledgeable, reliable, and expert team to rely on when necessary.
If you have any questions about servicing your vehicle, or if you would like to learn more about our team, we invite you to visit us at Team Ford Lincoln Inc., located in Denison, IA. Our team is here to assist you with all of your automotive needs!
We also proudly serve drivers throughout Denison, IA; Ida Grove, Mapleton, IA; Manning, IA; and Dunlap, IA.